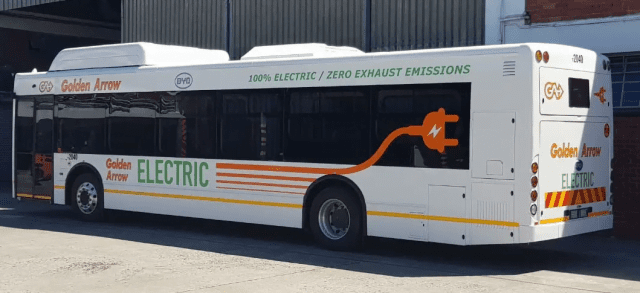 Electric vehicles (EVs) are attractive options and would likely remain so in our era mainly because they help to reach environmental, societal, and health objectives.
In addition to assisting global efforts to reduce greenhouse gas emissions, EVs are reputed to be two to four times more efficient than conventional internal combustion engine models.
With over 1,000 electric vehicles in the country, South Africa seems to be the leading country in the adoption of electric vehicles on the continent.
Golden Arrow Bus Services (GBS), a major public transport bus service operator in Cape Town, has officially launched the first active electric bus in South Africa.
Having started its renewable energy journey in 2017, Golden Arrow piloted the installation of two solar plants of 25 kilowatts each. The encouraging results eventually led to two of its facilities being declared carbon neutral in 2020.
Following the success of its projects to date, Golden Arrow moved to its next project, testing an electric bus. The company partnered with Chinese bus manufacturer Build Your Dreams (BYD) and uYilo to test two 100% electric buses for 12 months.
In the initial phase, one bus was tested without passengers, while the other was loaded with sandbags, equivalent to 44 passengers in weight.
According to the company, since July 2021, the two electric buses have been a part of Golden Arrow's day-to-day operations, ferrying passengers between Retreat and Cape Town.
Commenting on the rigorous testing the electric buses went through, Gideon Neethling, Golden Arrow engineer, said,
"For the first few months, we tested the buses in a range of circumstances without passengers. The aim was to get to know exactly how these vehicles perform before incorporating them into our operations.
Testing these vehicles has been a joy for everyone who is part of the project. Each time we carry out a new test or reach a new milestone, the level of excitement increases further."
In a bid to ensure the commercial viability of the electric buses, Neethling added that there is much to learn.
For instance, operational challenges such as electricity usage under different conditions, charge time between trips, possible scheduling challenges due to charge times, maintenance needs, and battery degradation need to be considered compared to the internal combustion engine currently in use.
Currently, Golden Arrow runs a contract for scheduled passenger bus services administered by the Western Cape Department of Transport and Public Works.
On a daily basis, the company manages over 1000 peak-hour buses conveying 250000 passengers daily recording more than 96% on-time rating for first departures.