Hello readers.
Welcome to #Women4theClimate on CleanbuildVoices!
In today's edition, our Woman Crush Wednesday (WCW) is Clarah Zinyama, a staunch advocate of climate-smart agriculture in her drought-prone community in rural Zimbabwe.
Women's traditional roles in agricultural production and household management as the procurers of water, cooking fuel, and other household resources, position them to find solutions to reduce environmental degradation and adapt to the changing climate.  In fact, you could say that they have a vested interest in doing so.
What is common to many climate activists is a desire to promote sustainable yet eco-friendly practices as measures against climate change. For some who have been touched by climate-related disasters, it goes beyond a passion but it becomes a calling. This was certainly the case with Clarah Zinyama.
---
Read also: Meet Ayakha Melithafa, an African environmental activist making her voice heard
---
Clarah was born into a humble family. From a young age, she understood what it means to experience rural poverty. Having observed climatic changes in Zimbabwe which disproportionately affected women farmers, she realized that the first step towards tackling the challenges of climate change is to empower women to become adaptive and resilient.
From then on, she began to nurse a passion to support marginalized smallholder farmers, particularly young women. Her goal is to help them build resilience against climate shocks, minimize post-harvest losses, and launch successful agribusinesses.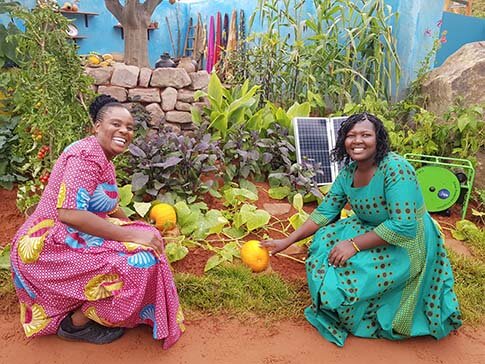 Being the elected National Chairperson of the CAMFED Association of Young Women Leaders, Clarah uses her position to teach rural smallholders how to use simple, locally available solutions to mitigate climate extremes. She also introduces the use of solar dryers to help farmers preserve the fruit and vegetables they grow, boosting their businesses within the agriculture value chain.
In May 2019, Clarah's climate action within the context of Africa's rural communities qualified her for the People's Choice Award and a Gold Medal in the "Space to Grow" category at the RHS Chelsea Flower Show in London. Like many other incredible African women striving at the forefront of climate action, Clarah, through her own climate-smart agriculture expertise, is making a difference one community at a time.
Watch this space, as we'll be back to feature another amazing woman as our WCW.
---
Featured Image: Clarah Zinyama, National Chairperson of the CAMFED Association of Young Women Leaders